Name: 4-Shelf Acrylic Duo-Rack

Media Used:
Acrylic, Aluminum
Price
$500 per level
Short Descript:
4-Shelf Acrylic Duo-Rack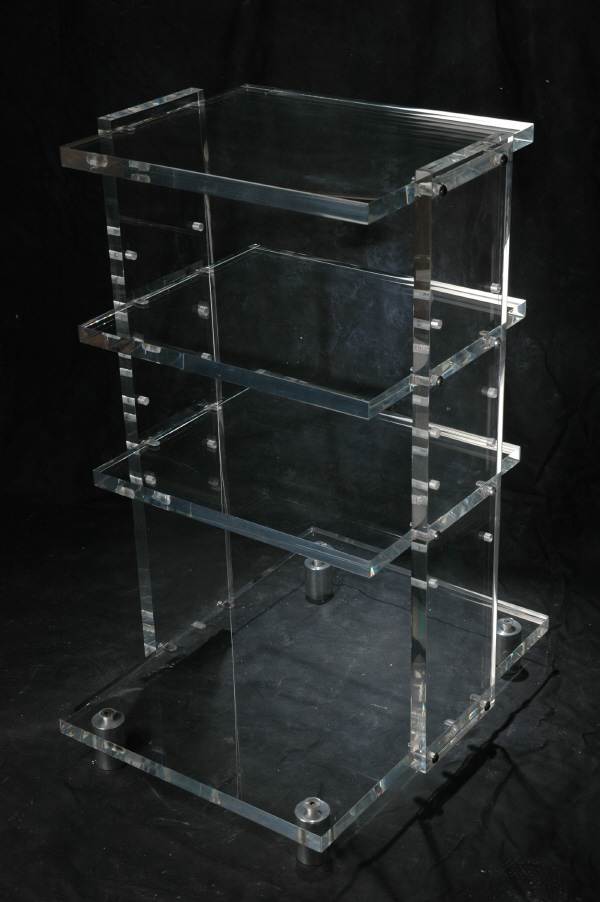 Description:
Duo-Racks vertical supports have locations for adjusting shelf heights. A slender width is an advantage for additional equipment stands, or a small listening room. Great access to the components and it almost disappears from sight. There is a reason for selecting Acrylic material for the shelving of my equipment stands. Vibration negatively affects audio equipment and is a well-known and accepted fact. The goal is to isolate the equipment from the unwanted vibrations, which are inherent from the surrounding of audio equipment itself. Acrylic is an excellent material for vibration control, because of its regular molecular structure; it will not resonate like glass yet it is eight times stronger. It also has minimum vibration amplitude on its mounting surface, less than the more favorable wood shelves. Many manufactures of hi-end audio products use acrylic for these advantages. A simple design yet highly effective rack system combined with aesthetically pleasing features. We can also illuminate the clear acrylic with LED lights for a glow of color. Matching amp stand and speaker stands complement a style of the future. Large solid aluminum cones or flat feet couple the rack to the floor.